Catalyst® Laser Label Marking Systems
Produce The Most Durable Tags and Labels At Fast Speeds
Catalyst® Laser Label Marking Systems
Produce The Most Durable Tags and Labels At Fast Speeds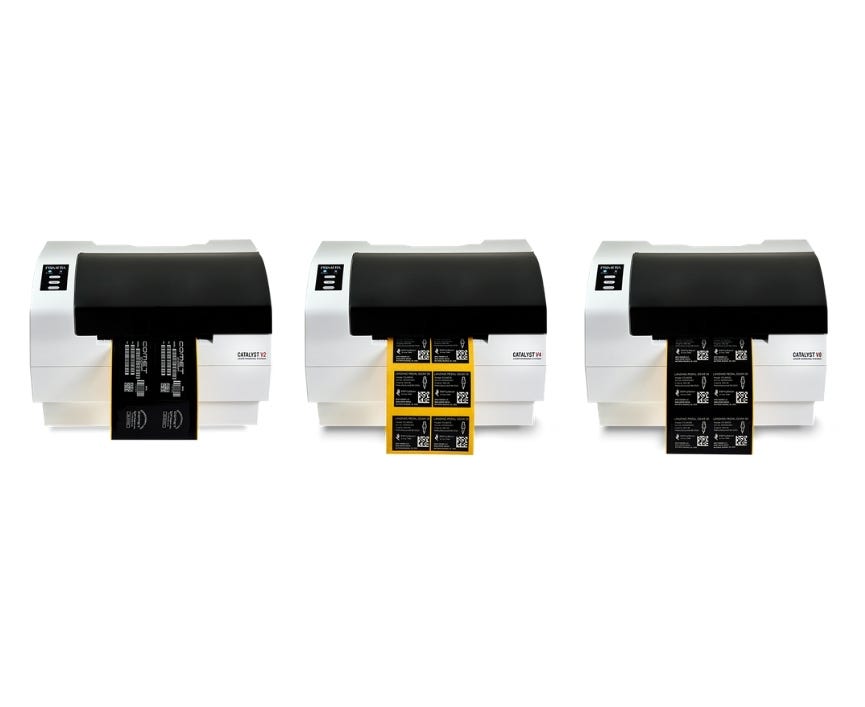 Next Generation Performance From Primera
Several years ago, Primera was the first company in the world to produce a low-cost, desktop roll laser label marking system. Today, we are proud to introduce a significant new development in laser label marking systems: The Catalyst-series by Primera.
Comprised of three models, all produce identical output but at different throughput speeds. By far, they are the most affordable and efficient printers of their kind. The three models are:
Catalyst V2 – entry-level replacement for thermal transfer printers
Catalyst V4 – twice the speed of the V2 model
Catalyst V8 – twice the speed of the V4 model, with throughput speeds and print quality that rival machines costing up to 10x more
Unique Materials and Imaging Technology
Catalyst uses a patent-pending, bundled package of fiber-coupled laser diodes for imaging onto Schreiner® Color Laser Film (CLF). This unique material is pre-laminated, resulting in the most durable laser-imaged labels. Lamination helps prevent the labels' degradation from environmental damage such as blowing sand and other abrasion and chemical influences.
The lasers in Catalyst create images by a process called phase-change. This technology is very different from the ablation process used in other laser label systems. During the imaging process, there is zero smoke or fumes. This characteristic is significant as it eliminates the need for expensive and noisy smoke extraction systems along with the requisite maintenance those systems require. Instead, Catalyst is suited perfectly for indoor use on a desktop. There are no issues with smoke or fumes. Plus, the labels come out pre-laminated, which is unique to CLF materials.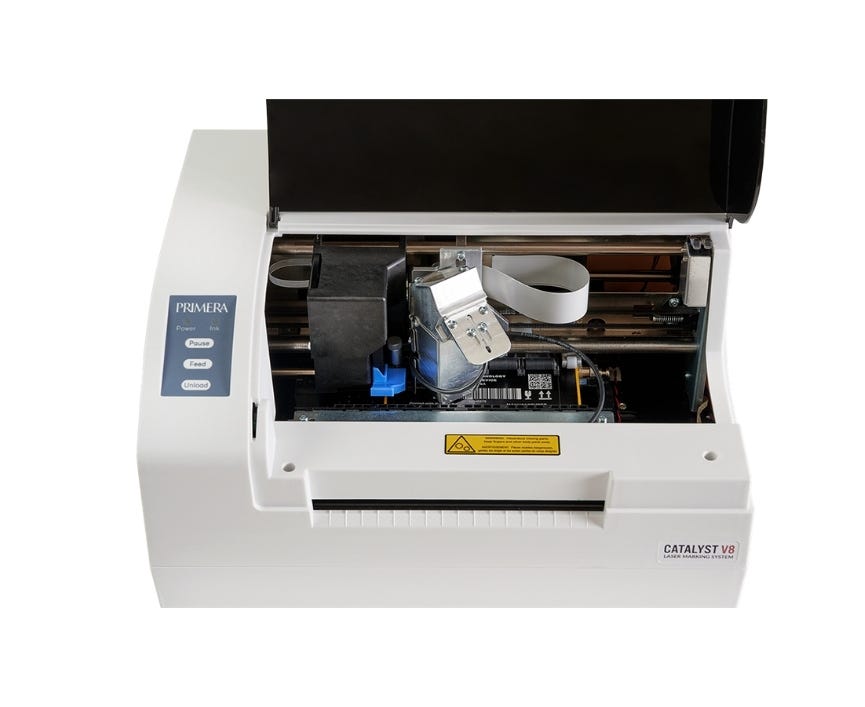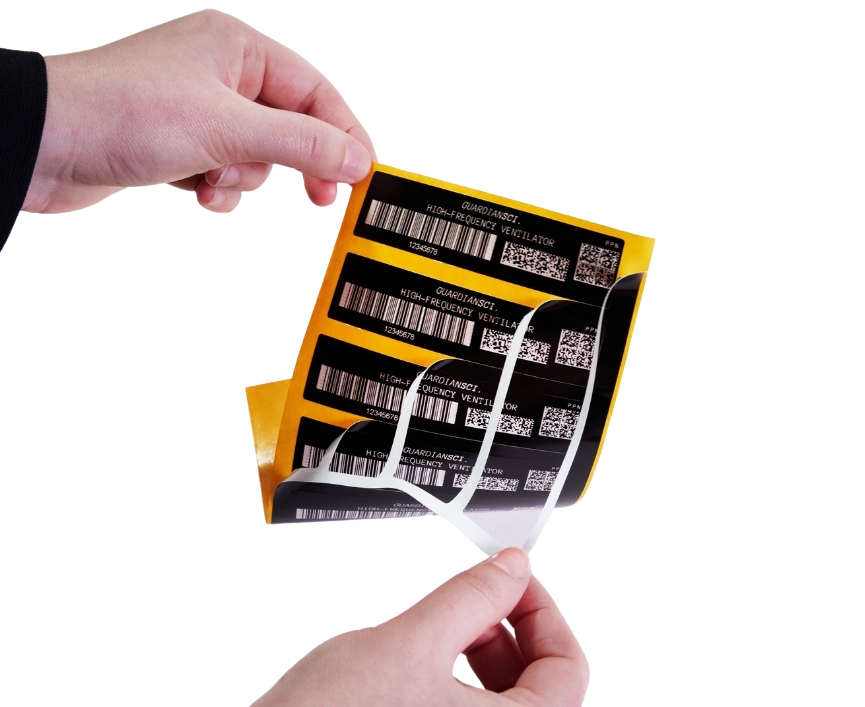 Dual, Built-In Cutters
Other laser label imaging systems use the high-powered laser to cut out special sizes and shapes, creating even more smoke, dust, and fumes. Catalyst is different, utilizing the same proven Digital Die-Cutting technology that is used in other Primera printers. Another built-in horizontal cutter separates the web after X number of labels or after every family sheet is printed and die-cut.
Catalyst is ideal for producing highly-durable labels for the following applications and more.
Asset Management Labels
UID/IUID MIL-STD 130N Labels & Tags
UDI Labels & Tags for Healthcare & Medical Labels
Outdoor-Durable Product Labels
Automobile, Aircraft/Helicopter, Marine Parts Labels
UL/ANSI-969 Rating Plate and Serial Tag Labels
Medical laboratory labels for high/low-temp applications
Labels for ATV's, Snowmobiles, RVs, golf carts, scooters, and more
High-Temperature Appliance Labels
Solar Panel, Light Pole & Outdoor Utilities Labels
Windshield Parking/Permit Labels
Outdoor Power Equipment Serial Number Labels
Labels for Pumps, Valves, Motors, other industrial components
Paint Mask Labels For Vehicles, Industrial Equipment
High-Value Asset Tagging and Tracking
Tamper-Evident Applications – Label Is Altered If Removal Is Attempted
Almost all other harsh-environment applications where strong resistance to temperature, UV exposure, chemicals and abrasion is required
A More Sustainable Solution Than Thermal Transfer
The other way to produce on-demand, durable labels is laminated resin thermal transfer on a polyester label. However, this method is more complicated, labor-intensive and not environmentally preferable.
First, ribbons must be purchased and kept in inventory. Then, an operator loads the ribbons into a printer and prints labels. Laminate must be hand-applied with accuracy. While printing, the printer winds up the waste ribbon and the ribbon must be disposed of properly. But that's a problem. Thermal transfer ribbons are not recyclable. Instead, they end up in landfills. Catalyst's no-ribbon technology is, therefore, a far more sustainable solution for the planet.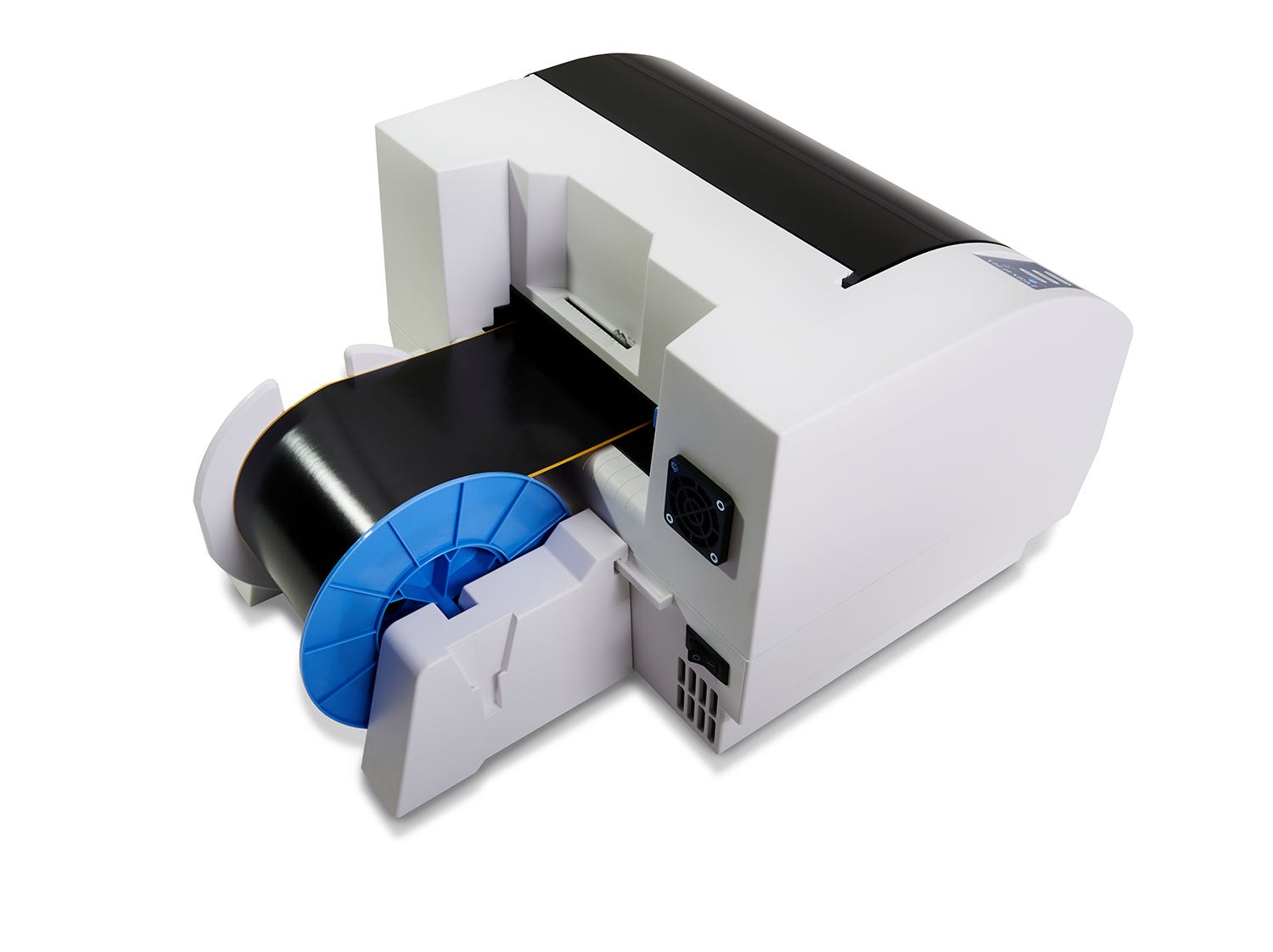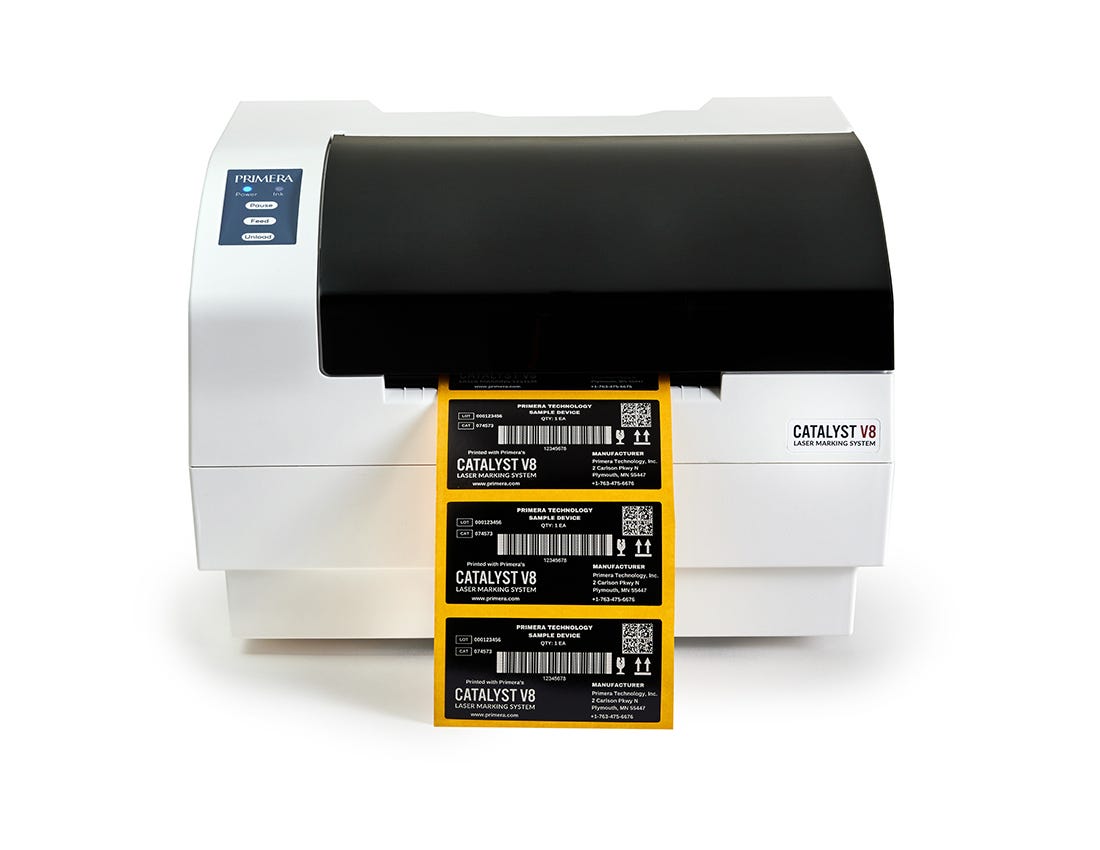 User-Friendly Design, Operation, and Maintenance
Catalyst-series printers are simple to deploy, operate, and maintain. With the self-installing printer driver and PrintHub™ for Windows, it's fast and easy to get up and running quickly. BarTender® Design software is included. Many upgraded versions of BarTender are available for obtaining additional features and connectivity, including database interfaces, SAP®, Oracle®, and other ERP integrations. Data interfaces include USB 2.0 and wired Ethernet.
Maintenance is minimal, limited mostly to keeping the machine's interior clear of dust generated during the digital die-cutting process. Laser diodes and fiber-optic couplers have a long life and are field-replaceable if ever needed.
For questions regarding the Catalyst-Series, please contact Primera's sales department at
+1 (763)-475-6676 or sale@primera.com or via live chat on www.primera.com
©2021 Primera Technology. All Rights Reserved.