Print directly onto slides for more efficient and more accurate specimen identification.
Primera's new Signature Slide Printer can significantly increase the efficiency of your lab while helping to reduce the risk of misidentification of specimens. It prints directly onto slides, eliminating handwriting or expensive, difficult to apply xylene-resistant labels. With impressive 300 dpi print resolution, you can print text, graphics and logos along with high-resolution linear and 2D bar codes on every slide you process.
Key Features and Benefits:
On-demand, full-color printing – print only the number of slides you need to help eliminate errors
Reduce inventory and purchasing activity – your inventory of multiple colors of slides is eliminated since you can now print colors on white slides
Up to 9 slides per minute
Output capacity: 15 slides
Prints directly onto slides – eliminates handwriting that is hard to read and labels that are hard to apply and can potentially fall off
Small footprint – fits perfectly next to the microtome
Chemical-resistant ink – ensures reliable identification of slides
USB interface – ability to integrate with Laboratory Information Systems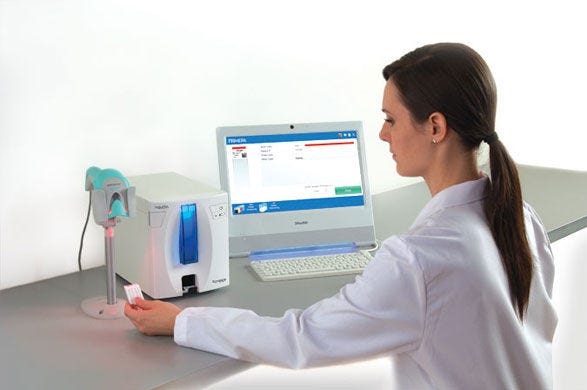 Easy to Use
Signature is designed for efficient, hands-free operation. Slides are stored in easy-to-load cartridges – away from dust and other potential contaminants. It takes just a few seconds to change out the cartridge if you need standard slides for one study and positively-charged slides for others. The level of slides remaining in a cartridge is easily viewed through the cartridge's transparent blue LED backlit case.
Optional PTLab™ Software
PTLab Software was designed by Primera specifically for use with the Signature Slide Printer. It can be installed on any Windows Vista 7/8/10 PC. With PTLab, you'll be up and running and printing full-color slides in just minutes. Printing only the slides you need, when and where you need them, helps avoid potentially serious patient safety errors.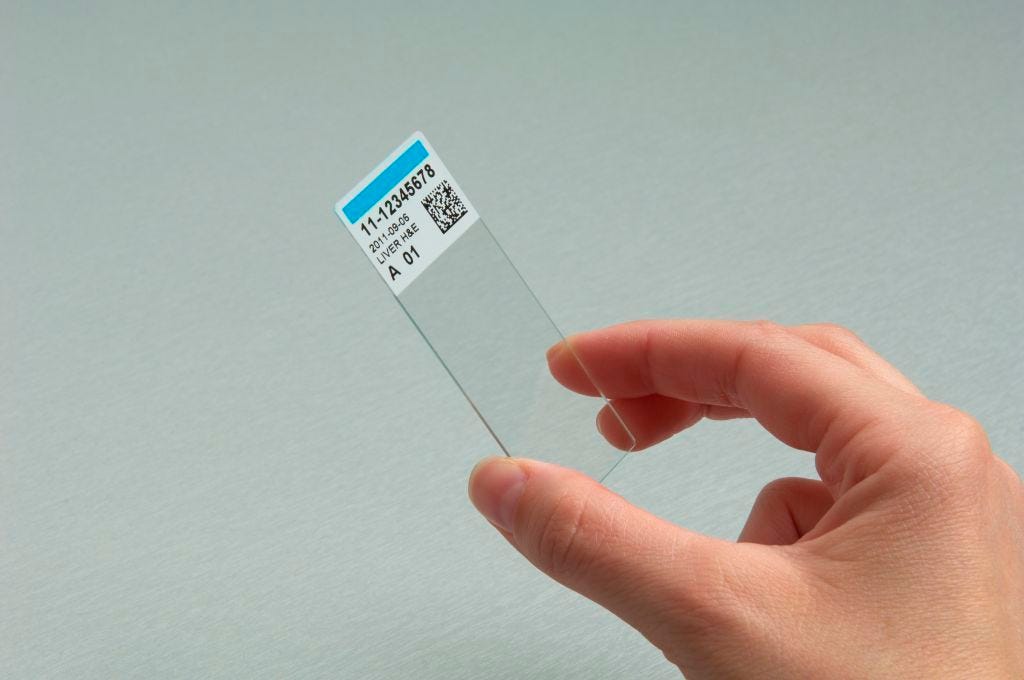 Innovation at a New, More Affordable Price
Even with its high-resolution, full-color printing capabilities, Signature costs less than all other monochrome-only slide printers currently available. For the first time, you can afford to de-centralize slide printing and put an on demand, direct-to-slide printer at each workstation. You'll reduce the chance of errors, have a more efficient workflow and save time and money by inventorying only white slides. The Signature Slide Printer represents true innovation for Pathology, Cytology and Histology labs as well as other medical, educational or research organizations that need to print slides on a regular basis.