SIGNATURE
EVO

SLIDE PRINTER
Print directly onto slides for more efficient and more accurate specimen identification.
Primeras Signature EVO Slide Printer boosts laboratory efficiency while minimizing the occurrence of specimen misidentification. What sets the Signature EVO Slide Printer apart is its cutting-edge, patented slide separator. By utilizing a controlled burst of highly compressed air, this innovative feature guarantees reliable slide feeding by effectively separating the slides. Say goodbye to handwritten slides or the challenge of applying xylene-resistant labels, as the Signature EVO prints directly onto the slides. With an impressive 300 dpi print resolution, this printer empowers you to effortlessly print text, graphics, logos, as well as high-resolution linear and 2D barcodes on each processed slide. Experience the future of slide printing with Primeras Signature EVO Slide Printer.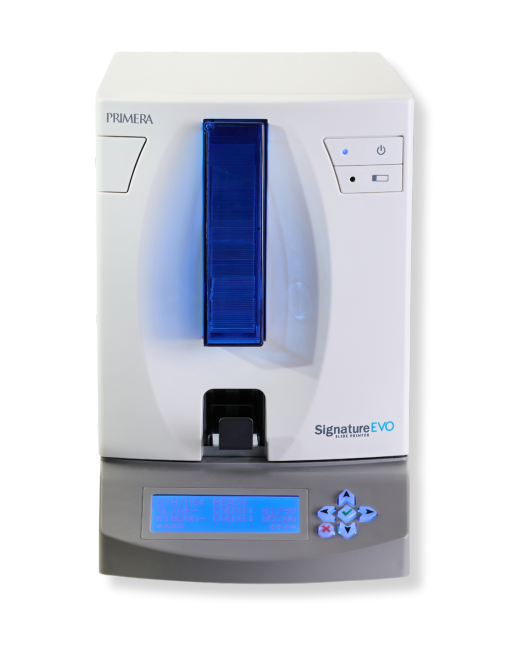 Key Features and Benefits:
On-demand, full-color printing – print only the number of slides you need to help eliminate errors
Reduce inventory and purchasing activity – your inventory of multiple colors of slides is eliminated since you can now print colors on white slides
Up to 10 slides per minute
Output capacity: 15 slides
Prints directly onto slides – eliminates handwriting that is hard to read and labels that are hard to apply and can potentially fall off
Small footprint – fits perfectly next to the microtome
Chemical-resistant ink – ensures reliable identification of slides
Network connectivity or USB interface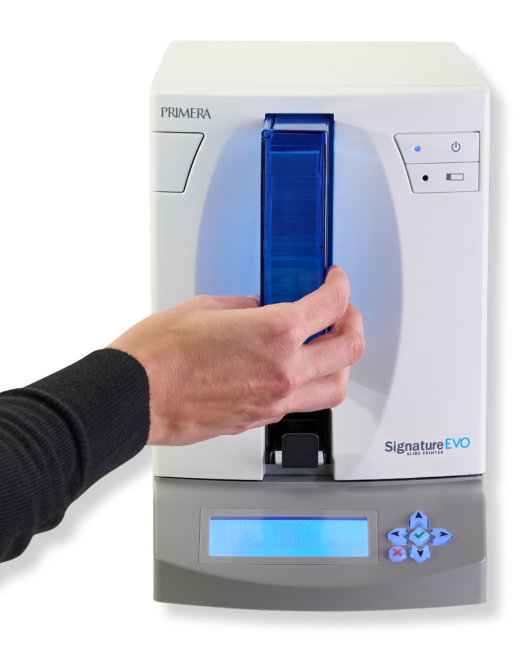 Easy to Use
Signature EVO is designed for seamless and hands-free operation. Slides are securely stored in convenient cartridges, shielded from dust and potential contaminants.

Swapping cartridges to accommodate different slide requirements is now even faster, taking just a matter of seconds. Whether you need standard slides for one study or prefer positively-charged slides for another, Signature EVO effortlessly adapts to your needs. Thanks to its innovative and patented EVO SlideSeparator™ technology, slides can be easily separated using a gentle puff of highly compressed air. This process ensures effective slide separation.
Optional PTLab™ Software
PTLab Software was designed by Primera specifically for use with the Signature EVO Slide Printer. It can be installed on any Windows PC. With PTLab, youll be up and running and printing full-color slides in just minutes. Printing only the slides you need, when and where you need them, helps avoid potentially serious patient safety errors.