Bravo SE-3 Blu Disc Publisher, Refurbished (Available in US Only)
Capacity: Up to 20discs
Drives: One recordable CD/DVD/BD
Printing: One tri-color inkjet cartridge
Throughput: Up to 36 CD/14 DVD/4 BD/hour
Features: Outstanding reliability
Note: Extended warranties are not available. Refurbished units are available in the USA only.e
Refurbished unit availability cannot be guaranteed. There may be a lead time for a refurbished unit to ship.
Availability:
Out of stock
Bravo SE-3 Blu Disc Publisher
Bravo SE-3 Blu is a compact, all-in-one, automated disc production device that fits perfectly on your desktop. It automatically copies and prints up to 20 discs per job and is perfect for a wide variety of light-to medium-duty disc publishing jobs.
Features:
USB 3.0 – delivers the fastest possible recording speeds on CD-R, DVD-R and BD-R media
Only one tri-color ink cartridge for easy management
4800 dpi print quality
Compatible with Windows 7/8/10+ and Mac OS X 10.7 (or higher)
LG Blu-ray Disc™ recordable drive
Prints up to 270% faster than the previous model
Just a few of the most popular uses include content for police car video evidence, PACS images in radiology, court proceedings, worship services, high-resolution wedding videos, music CDs for bands to sell and photo collections for mission trips.
What's In The Box
Bravo SE-3 Blu Disc Publisher includes built-in DVD-R/CD-R/BD recordable drive and integrated 4800 dpi inkjet printing, color ink cartridge, Primera's PTPublisher™ for Windows® 7/8/10+ with SureThing™ Primera Edition design software, PTPublisher for Mac® OS X 10.7 or higher, power supply, USB 3.0 cable and instructions.
Bravo SE-3
Software
Drivers
| | |
| --- | --- |
| PC Bravo SE-3 v 1.10 - 83 MB - 12-8-17 | Download |
| PC Bravo SE-3 v 1.10 - Updated Signature - (Zip Only) 6.5 MB 11-19-18 | Download |
| Mac Bravo SE-3 v 2.0 - 8.3 MB - 10-18-19 | Download |
Firmware
| | |
| --- | --- |
| PC Firmware Updates - Version 1.37(10) | Download |
You may also get the latest firmware and software for your Bravo, open PTPublisher, click the Help menu - Select "Check for Updates"
Mac Firmware Updates
To get the latest firmware and driver go to Mac System Preferences - Print & Scan - Select the Disc Publisher SE-3 - Click on Options and Supplies - Utility -Open Printer Utility. Click About... and then Check for Updates. Once the driver update has completed you will be prompted to update the firmware.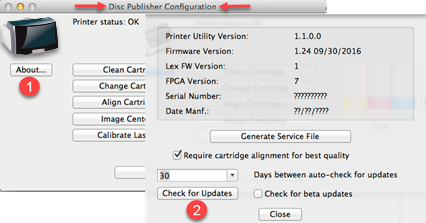 Manuals
| | |
| --- | --- |
| Bravo SE-3 Product Manual | Download |
| Bravo SE-3 Quick Reference (2 pages) | Download |
>Bravo SE-3 Disc Publisher Specifications

Models
Bravo SE-3 DVD/CD Publisher
Bravo SE-3 Blu BDR/DVD/CD Publisher (Blu-ray Disc ™ burner drive)
Bravo SE-3 AutoPrinter (No drives, for printing only)
Disc Capacity
20 discs
Recording Speeds
CD: 40x, DVD: 20x, DVD-DL: 10x, BD-R:12X (for Blu units only)
Recordable Formats

CD: CD-R, CD-RW, CD-Audio (CD-DA), Video-CD, MP3 to CD-Audio, most other industry-standard CD formats, and BR-R (for Blu units only)
DVD: DVD±R, DVD±RW, DVD±DL

Optical Drive
Latest generation CD-R/DVD±R recordable drives
Optional 12X BD-R drives
Print Method
Inkjet
Print Resolution
Up to 4800 dpi
Maximum Print Width
4.724" (120mm)
Ink Cartridge
One tri-color ink cartridge, Primera P/N 53334
Colors
16.7 million
Software
For the PC: PTPublisher™, SureThing™ CD Label Software Primera Edition
For the Mac: PTPublisher for Mac OS X 10.7 or higher with Disc Cover design software.
Media Types
Printable-surface DVD±R and CD-R; standard or water-resistant
Data Interface
USB 3.0 for CD/DVD/BDR
Recommended PC Minimum System Requirements:
Intel Celeron® Processor or higher, 2GB RAM or higher, 10GB or more free hard drive space, available USB 2.0. For optimal performance use USB 3.0.
Recommended Mac Minimum System Requirements:
1 GHz Intel processor or higher, capable of running Mac OS X v10.7 or higher, 1GB RAM, one available USB 2.0. For optimal performance use USB 3.0.
Operating Systems
Windows®: 7/8/10+
Mac: OS X v10.7 or higher

Electrical Rating
12VDC, 5A
Safety
UL, UL-C, CE
California Prop 65:
WARNING: Cancer and Reproductive Toxin - www.p65warnings.ca.gov
Global Compliance
RoHS, WEEE
Emissions
FCC Class B, CE
Power Requirements
100-240 VAC, 50/60Hz, 60 watts
Weight
17 lbs. (7.7 kg)
Dimensions
15"W x 7"H x 14.75"D
(381mmW x 178mmH x 375mmD)
Included:
PTPublisher Software for PC and Mac, one tri-color ink cartridge, two Tuffcoat© sample discs (CD/DVD)
Options

CD-R/DVD±R Media:

• TuffCoat Plus (white, standard printable surface)
• TuffCoat Extreme™ Media (glossy surface, water-resistant)

PTBurn Software Developer's Kit (SDK) for custom
configuration to 3rd party software applications
(available at no charge to qualified developers)

Warranty
One year parts and labor; optional
Extended warranties available

*Not network compatible