Bravo 4200 AutoPrinter, Refurbished (Available in US Only)
Capacity: Up to 100 discs
Drives: print-only (no drives)
Printing: One tri-color inkjet cartridge
Throughput: Up to 77 med coverage discs/hr
Features: Outstanding reliability
Note: Extended warranties are not available. Refurbished units are available in the USA only.
Refurbished unit availability cannot be guaranteed. There may be a lead time for a refurbished unit to ship.
Bravo 4200 AutoPrinter
Bravo 4200 AutoPrinter automates the process of printing quantities of recordable CDs, DVDs and Blu-ray™ Discs. Using built-in robotics the discs are transported to a high-speed, high-resolution full-color disc printer.
Features:
Only one tri-color ink cartridge for easy management
100 disc capacity
4800 dpi print quality
Compatible with Windows 7/8/10+ and Mac OS X 10.7 (or higher)
Other Bravo 4200-Series models available for both duplicating and printing.
Just a few of the most popular uses include content for police car video evidence, PACS images in radiology, court proceedings, worship services, high-resolution wedding videos, music CDs for bands to sell and photo collections for mission trips.
What's In The Box
Bravo 4200 AutoPrinter connects to any Windows 7/8/10+ PC or Mac OS X 10.7 or higher and includes integrated, high-speed 4800 dpi color printing, individual tri-color ink cartridge, SureThing Primera Edition design software for PC, Disc Cover design software for Mac, power supply, USB 3.0 cable and instructions.
Bravo 4200 Series
Software
Software Installer Notice: We are aware that there is a problem registering your product during the software install/setup program. This problem also prevents customers from completing the installation. However, rest assured all necessary software has been installed! If you would like to register your product, visit this link: https://www.primera.com/product-registration Thank you for your understanding. We hope to have this issue corrected soon.
Drivers
Bravo 4200 Series Driver Only PC v. 1.10 - 84 MB - 12-8-17
Download
Bravo 4200 Series

- Updated Signature

- (Zip Only) 6.5 MB 11-19-18
Download
Bravo 4200 Series Driver Only Mac v. 1.30 - 9.1 MB - 12-12-17
Download
Firmware
| | |
| --- | --- |
| PC Firmware Updates - Version 1.35(10) 12-22-17 | Download |
You may also get the latest firmware and software for your Bravo, open PTPublisher, click the Help menu - Select "Check for Updates"
Mac Firmware Updates
To get the latest firmware and driver go to Mac System Preferences - Print & Scan - Select the Disc Publisher 4200 - Click on Options and Supplies - Utility -Open Printer Utility. Click About... and then Check for Updates. Once the driver update has completed you will be prompted to update the firmware.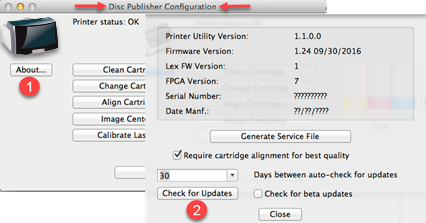 Manuals
>Bravo 4200–Series Disc Publisher Specifications

Disc Capacity:
Bravo 4052: 50
Bravo 4200-Series: 100
Number of Drives:

Bravo 4200 Autoprinter – no drives – printer only
Bravo 4052 Disc Publisher: 1
Bravo 4201 Disc Publisher: 1
Bravo 4202 Disc Publisher: 2

Disc Recorders:
Latest-generation CD-R/DVD-R recordable
drives; optional 12x BD-R drives knowledge base
Recordable Formats:
CD: CD-R, CD-RW, CD-Audio (CD-DA), Video-CD, MP3 to CD-Audio, most other industry-standard CD formats

DVD: DVD±R, DVD±RW, DVD±DL, and BD-R (for Blu units only)

Print Method:
Thermal inkjet
Print Resolution:
Up to 4800 dpi
Ink Cartridges:
One tri-color ink cartridge
Colors:
16.7 million
Color Matching:
Z-Color™ color profile included
Robotics:
High-speed belt drive
Ink Level Warning:
Calculates actual number of prints remaining
based upon ink usage of graphics being
printed (patent-pending)
Indicator Lights:
External: Power
Internal: Blue LED lighting is on during normal
operation; pulses during low-supplies
condition; blinks during error condition
Operating Systems:
Windows®: 8 / 10 / 11
Mac: OS X v10.7 or higher
Data Interface:
USB 3.0 for CD/DVD/BDR drives
Recommended PC
Minimum System
Requirements:
Intel Pentium IV® Processor or higher,
1GB RAM or higher, 10GB or more free hard
drive space & available USB 2.0 port. For optimal performance use USB 3.0.
Recommended
Mac Minimum
System
Requirements:
1 GHz Intel processor or higher,
capable of running Mac OS X v10.7 or
higher, 1GB RAM, one available USB 2.0
port, 10GB or more free hard drive space. For optimal performance use USB 3.0.
Power:
Universal auto-switching 100-240VAC,
50/60 Hz, 5.0A
Certifications:
UL, UL-C, CE, FCC Class A, RoHS, WEEE
California Prop 65:
WARNING: Cancer and Reproductive Toxin - www.p65warnings.ca.gov
Weight:
26 lbs. (11.8 kg)
Dimensions:
17.8"W x 11"H x 17.5"D
(452mmW x 279mmH x 445mmD)
Included:
PTPublisher Software for PC and Mac.
One tri-color ink cartridge and two Tuffcoat© sample discs (CD/DVD).
Kiosk Kit for front dispensing of up to 100 discs. (Bravo 4200-Series only)
Options:
Blu-ray Disc Recordable Drives
Extended Warranty
Hot Swap Program

*Network Compatible with optional PT Publisher Network Edition. Product does not include an ethernet port.

*Bravo 4052 is NOT network compatible.