Available 7AM – 10 PM M-F CDT (-5 GMT) and Saturday 11AM – 8PM CDT (-5 GMT)
Worldwide 30-Day, 100% satisfaction guarantee.
Catalyst V8 Laser Marking System
Print Technology: Fiber-optic coupled laser diodes
Number of Laser Diodes: 8
Max Print/Cut Width: 4.1" (104mm)
UL Laser Certification: Class 1 Laser Product
Cutter: Built-in die-cutting knife blade and pizza-wheel cutter
Operating System: Windows 8/10/11
Availability:
Out of stock
Only %1 left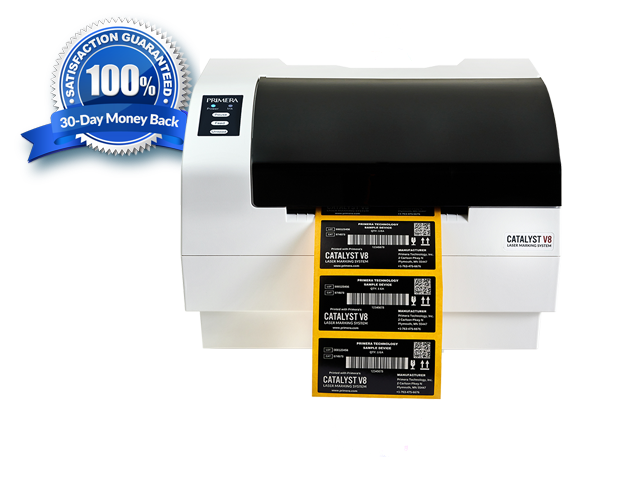 Catalyst Laser Label Marking System
Print and cut the most durable custom barcode labels in virtually any size or shape.
Catalyst V8 Laser Marking System
Print the most durable barcode labels at fast speeds.
Laser labels are ideal for mission-critical applications in defense, military, heavy equipment, aviation, and other high value applications. Available substrates include Schreiner® Color Laser Film (CLF) in black with white print and paint mask labels.
Laser Diodes:8 laser diodes
Cutter:Built-in die-cutting knife blade and pizza wheel cutter

Software:BarTender® UltraLite Primera Edition for PC
Print Your Own Durable Custom Barcode Labels with
Primera's Catalyst Laser Label Marking System
Catalyst® Laser Marking System prints onto highly durable, pre-laminated label substrates. Ideal for asset tags, serial tags, warning labels, information/instruction panels, and many other industrial, automotive, and instrumentation labels that must withstand rough environmental conditions for years or even decades. Built-in Digital Die-Cutting™ for producing labels of any shape or size. No add-on filtration or fume extraction equipment is required.
Catalyst V8 – throughput speeds and print quality that rival machines costing up to 10x more.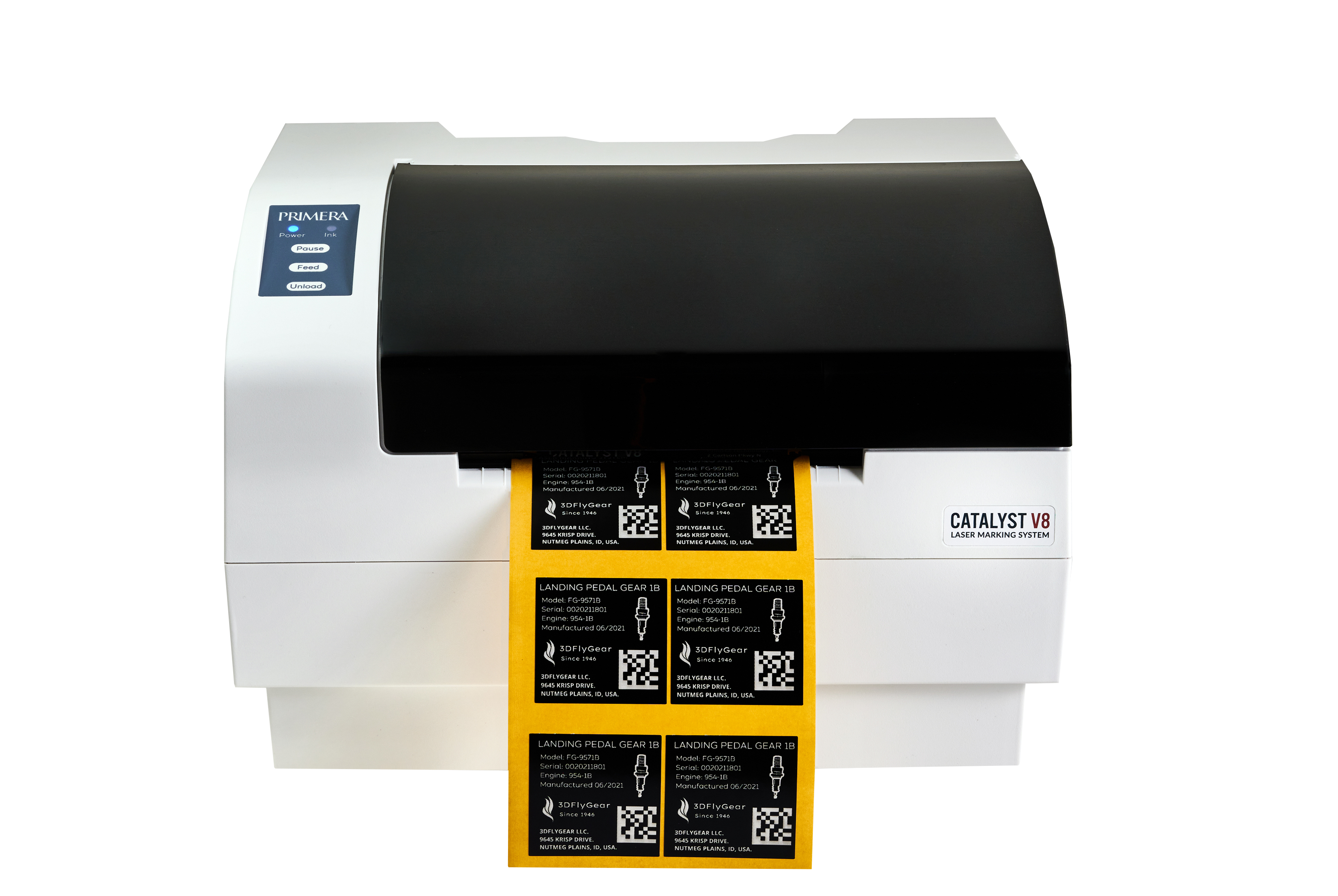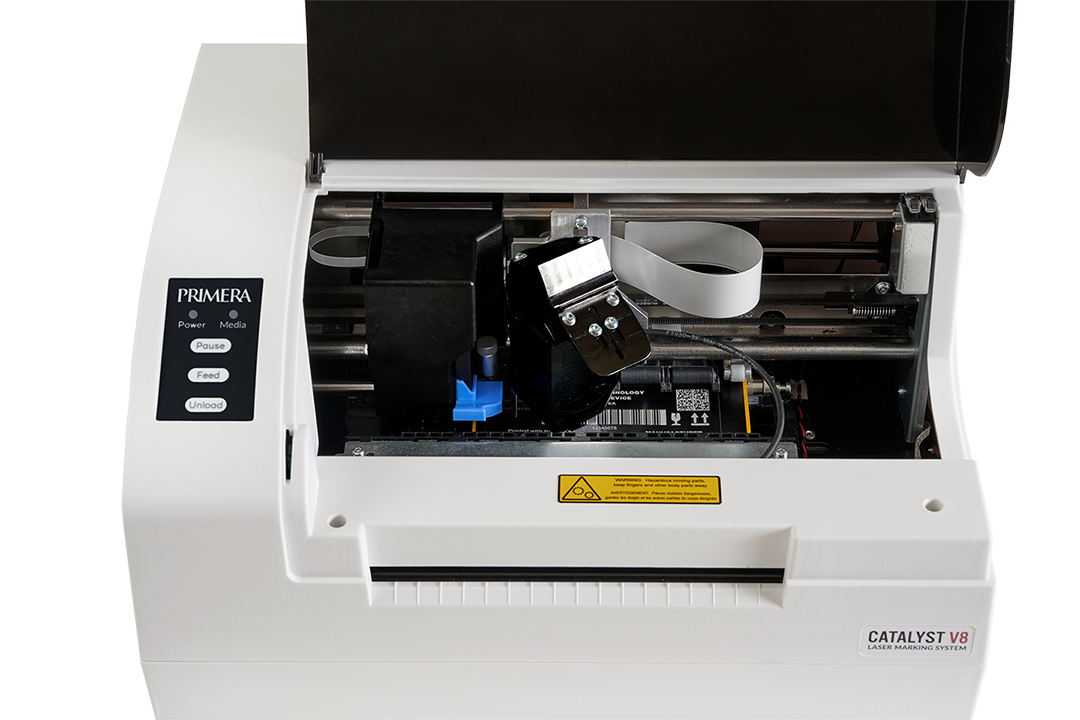 Unique Materials and Imaging Technology
Catalyst uses a patent-pending, bundled package of fiber-coupled laser diodes for imaging onto Schreiner® Color Laser Film (CLF). This unique material is pre-laminated, resulting in the most durable laser-imaged labels. Lamination helps prevent the labels' degradation from environmental damage such as blowing sand and other abrasion and chemical influences.
Dual, Built-in Cutters
Other laser label imaging systems use the high-powered laser to cut out special sizes and shapes, creating even more smoke, dust, and fumes. Catalyst is different, utilizing the same proven Digital Die-Cutting technology that is used in other Primera printers. Another built-in horizontal cutter separates the web after X number of labels or after every family sheet is printed and die-cut.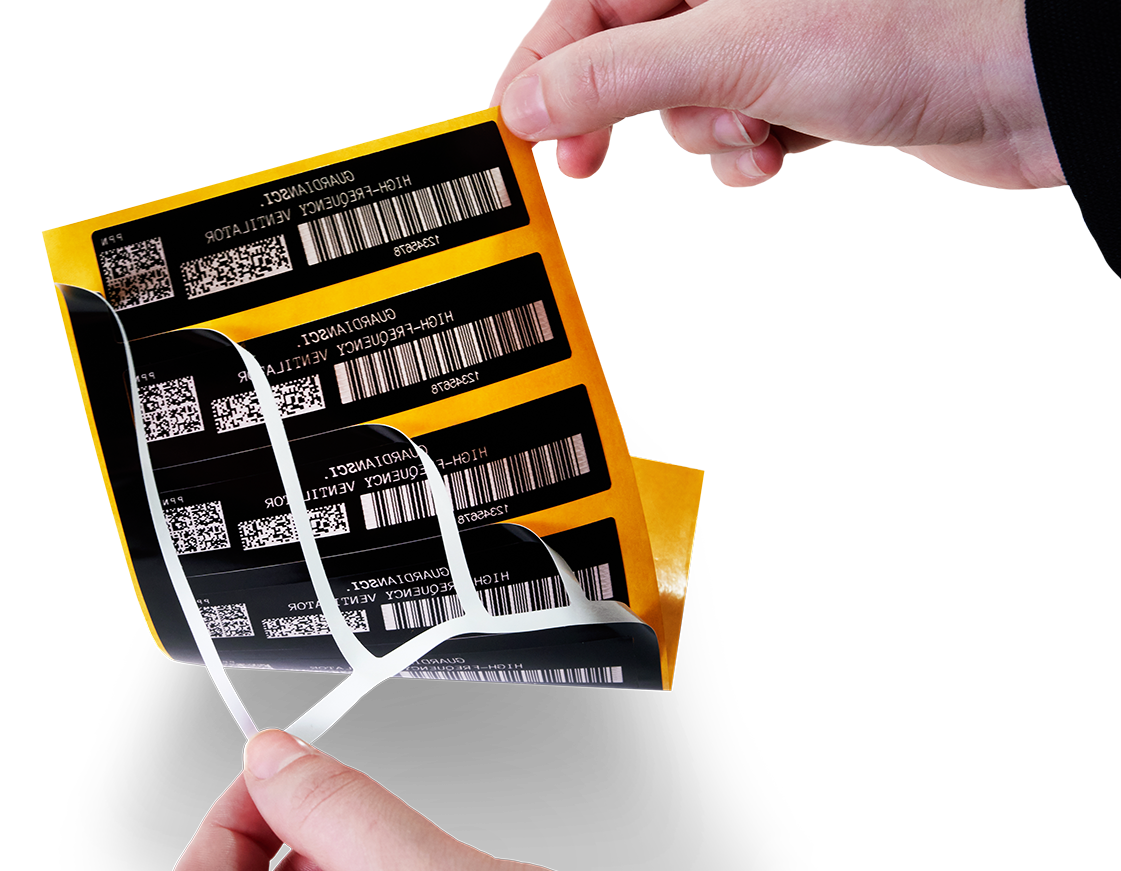 User-Friendly Design, Operation, and Maintenance
Catalyst-series printers are simple to deploy, operate, and maintain. With the self-installing printer driver and PrintHub™ for Windows, it's fast and easy to get up and running quickly. BarTender® Design software is included. Many upgraded versions of BarTender are available for obtaining additional features and connectivity, including database interfaces, SAP®, Oracle®, and other ERP integrations. Data interfaces include USB 2.0 and wired Ethernet.
Maintenance is minimal, limited mostly to keeping the machine's interior clear of dust generated during the digital die-cutting process. Laser diodes and fiber-optic couplers have a long life and are replaceable if ever needed.
Produce highly durable barcode labels with Catalyst V8 – See it in action.
How much does the Catalyst V8 cost?

The Catalyst V8 is $8,995 USD (MSRP)

What is the imaging technology used in Catalyst?

Catalyst uses high-power, fiber-coupled laser diodes to image onto ultra-durable laser label substrates called Color Laser Film ("CLF"). Schreiner Pro-Tech makes the material in Germany. CLF has a clear overlaminate on top of an imaging receptor surface that phase-changes when exposed to a 980nm, focused infrared laser beam. The resulting image is a black background with white text and graphics, all underneath the protective clear lamination layer.

Can I get a more detailed description of CLF and how is it different from other durable label substrates?
Here is how Schreiner describes CLF in its product literature:
"Schreiner Color Laser Film (CLF) label stock is a high-grade polyester composite that is extremely resistant to environmental conditions and has outstanding adhesion properties for rough industrial applications. A high-powered laser, in a zero-emissions process, can mark CLF labels. The laser-active layer below the transparent laminate produces a high-contrast color reference layer for the inscription. The film surface remains undamaged with no ablation of film particles, creating a tough, highly environment–resistant label."
CLF labels have better resistance to the combination of UV light, liquids, chemicals, and abrasion than those produced by any other on-demand, desktop laser imaging system, including resin thermal transfer printed onto polyester.
I've heard that lasers require replacement and that they are expensive. Is this true for Catalyst, too?

No, Catalyst doesn't use the same type of lasers as others laser marking equipment. Instead of expensive, shorter-lived CO2 or Ng:YAG lasers, Catalyst's solid state, laser diodes are expected to last for the printer's life – typically 5-7 years or more. If a replacement is ever required, the cost is only around $500 USD each, including labor. Laser imaging print head modules are also available; cost is yet to be determined.

Is Catalyst compatible with ZPL (Zebra Programming Language)?

No. Like all of Primera's printers, Catalyst is a raster-based printer. It requires a printer driver to be installed on a Windows PC. This makes Catalyst compatible with all current-generation Windows PC's and software.

Is Catalyst a wireless printer? What other interfaces are available?
Catalyst does not have built-in wireless but can be made into a wireless printer with a low-cost ($40 - $50 USD) Ethernet to Wireless adapter. Customer Care reps can email you a list of currently-supported 3rd-party adapters.
Other supported interfaces include USB 2.0 and wired Ethernet for network connections.
Catalyst uses "high-power, fiber-coupled laser diodes for imaging". That sounds scary. Is Catalyst safe?

Catalyst has been tested and approved for industrial laser imaging applications. It meets or exceeds all of the safety requirements of UL, UL-C, CE, FDA/CDRH, and IEC 60825-1. It is safe for office, warehouse, and factory use but not approved for home use as it is a Class A device under FCC Part 15. Many safety features are included, including dual interlocks on the cover of the marking area.

In which countries is Catalyst available?

Catalyst is available worldwide, subject to the usual restrictions in certain countries regarding locally-required safety and emissions approvals, VAT, duties, taxes, etc.

What is the cost per label?

It varies by the size of the label. Because there's no ink involved, only the CLF material cost needs to be calculated. Based upon Primera's published MSRP prices, a standard CLF label that measures 1" x 4" would cost approximately $0.135 (USD) each.

Can Catalyst print in color?

No, laser imaging on this material is a monochrome-only process. The labels will always have a black background with white lettering, graphics, and bar codes.

Does the unit come with software?

Yes, Catalyst ships with a free copy of BarTender® UltraLite software. It generates almost every bar code ever invented, including 2D and 3D bar codes such as Datamatrix and QR codes. For more advanced applications, BarTender Professional Edition is available. It allows connection to external databases, along with many other additional features such as serialization. Integration to ERPs such as Microsoft Dynamics, Oracle® and SAP® is available through BarTender Enterprise Edition.

How long will the printed labels last outdoors?

Schreiner's CLF materials are intended for long-term, indoor and outdoor use. Noticeable fading won't be evident for many years. This makes CLF ideal for applications such as solar panel serial tags, information and warning labels, VIN number plates, vehicle window stickers, utility boxes, and other applications where high durability and resistance to UV light, liquids, chemicals, and other elements are essential. A 10-15 year life, or longer, is not unusual.

How fast is Catalyst?

Catalyst V8 is12 seconds/label

What is the weight of Catalyst?

While we wouldn't necessarily call it a portable printer, Catalyst is relatively light and easy to move around if needed. It weighs just 14 lbs. (6.35 kg).

Do I need to supply ventilation or a fume extraction system for Catalyst?

No, this is one of the considerable advantages of using only Schreiner CLF materials. The laser generates no smoke or fumes since the phase-change process makes the image appear underneath the clear, protective laminate. And unlike other laser marking systems that use the laser to cut out the label's shape and size, creating smoke and fumes, Catalyst uses an X/Y knife blade plotter that cuts through the CLF material with no smoke and no fumes.

Can I use Tesa, 3M or other laser label materials in Catalyst?

No. Those materials work by a completely different process called laser ablation, where the laser uses heat to blast away the substrate's coating. The ablation process produces noxious dust, fumes, and smoke that must be mechanically filtered. Schreiner CLF is a "smokeless" material. It creates no dust, smoke, or fumes during the laser marking process. CLF is patented globally by Schreiner, so no other brands have been tested or are supported.

Can I also print regular, non-laser labels with Catalyst?

No. Catalyst supports only phase-change materials. At this time, Schreiner CLF is the only available material approved for use on the printer.

How do I get help with technical issues?

In the USA and Canada, contact Primera's Technical Support at +1-763-475-6676. Outside of the USA and Canada, please contact your local reseller or Primera distributor. All Primera customers receive free technical support by phone, email, and live chat for the life of the product.

What is the warranty on the printer?

One year parts and service. An extended warranty is also available for purchase.

What kinds of applications require such durable labels?

Catalyst produces durable labels for a wide range of applications, including:



IUID Labels – for the US Department of Defense's MIL-STD-130
UDI ("Unique Device Identification") Labels – for asset tracking of medical devices according to new FDA regulations
Asset tags and labels – to protect and identify valuable equipment and devices
Automobile labels – for VIN and rating plates and under-hood use
Medical laboratory labels – with both low- and high-temperature and chemical resistance, labels can be used virtually anywhere from the freezer to the autoclave
Solar panel labels – able to withstand outdoor stresses from wind, rain, and sunlight
Security labels – prevents the label from being removed, and if attempted, shows tamper-evidence
Harsh environment labels – any other labels such as instruction or warning labels used in rough outdoor weather conditions
What is UID?
UID or IUID (Unique Identification Marking, UID marking or Item Unique Identification), is a process mandated by the United States Department of Defense as a marking method used to give government and military equipment a unique ID. Marking is required for all equipment with an acquisition cost of $5,000 USD and above, equipment which is mission essential, controlled inventory, serially-controlled, or consumable.
More information is available from the US DoD at https://www.acq.osd.mil/asda/dpc/ce/ds/unique-id.html.
What is UDI?
According to the FDA's official definition, "Unique Device Identification (UDI) is a mandated, unique numeric or alphanumeric code that includes a device identifier, which is specific to a device model, and a production identifier, which includes the current production information for that specific device, such as the lot or batch number, the serial number and/or expiration date used on medical devices in the USA."
More information is available from the FDA at http://www.fda.gov/medicaldevices/deviceregulationandguidance/uniquedeviceidentification/default.htm.
Can Catalyst produce UL/CSA rating plate and serial tag identification labels that meet UL969?
Yes! Schreiner CLF meets the requirements for UL969 and, in certain countries, is listed with UL as an approved marking system for these applications.
Can I print roll-to-roll with Catalyst?
Yes, we offer a rewinder called RW-12. You can read about it here: https://www.primera.com/rw-12-label-rewinder-1018636.html
I've heard the term "family sheets." What are they, and can Catalyst make those, too?
A family sheet is more than one label printed and digitally die-cut together and then dispensed as a sheet. Catalyst is ideally suited to produce them. Two built-in cutters are required. The first is an X/Y blade to cut out each label. The other blade cuts across the web and dispenses the family sheets one at a time.
Commonly used in manufacturing, family sheets are usually produced in a central location and then sent to the factory floor. Each product they manufacture gets one each of every label on the family sheet. If a label is left over, the assembler knows that they forgot to put it onto the product.
What is the maximum width and length that can be printed on Catalyst?
Catalyst's CLF substrates are always 4.724" (120mm) wide. Maximum print and cut width is 4.13" (104.9mm).
The maximum length of printed and cut labels is 12" (304.8mm).
What are the properties of the standard adhesive? Are other adhesives available?
Schreiner CLF has a modified acrylic adhesive with excellent weather, solvent, and plasticizer resistance. It has a significantly thicker adhesive coating than standard versions, and achieves superior tack force even on rough and structured surfaces. The final tack force is reached after approximately 72 hours, depending upon the substrate to which it is affixed.
Is a tamper-evident version of CLF available for Catalyst? If yes, can you explain how it works?
Yes, a version of the standard black CLF is available with a tamper-evidence feature. If someone tries to remove a printed label, small parts of the label remain on the surface. The label itself is then permanently damaged, too.
What is the print resolution of Catalyst?
300 dots per inch.
What are some typical applications for the labels produced by Catalyst?
Vehicle labels: VINs, rating plates, instruction labels, underhood labels
Auto parts
Asset tags in hospitals, offices, factories, etc.
IUID/UID MIL-STD 130N labels and tags for the US Department of Defense
UDI labels for medical equipment and devices
Parking and permit labels on windshields
Solar panel labels
Utility boxes, street lights, power poles
Industrial equipment of all kinds such as pumps, meters, HVAC equipment, valve, motors, etc.
Lawnmowers, snow blowers, and all kinds of outdoor power equipment
Aircraft, helicopter and marine parts and controls
UL/ANSI UL969 listed labels
Serial tags and name plates
Medical laboratory labels for high and low temperature applications
Paint mask labels for vehicles, spare parts and industrial equipment such as road graders, tractors, mining equipment and more
Appliances
Tools, air compressors, power washers
Control panels
Outdoor storage labels
And much, much more – anything that has relatively high value and needs to withstand harsh indoor and outdoor conditions with superior resistance to liquids, chemicals, abrasion and UV light.
Printer Specifications

Print Technology:
Fiber-optic coupled laser diodes
Print Resolution:
300 x 300 dpi
Minimum Print/Cut Width:
0.5" (13mm)
Maximum Print/Cut Width:
4.1" (104mm) - Die-Cut
5" (127mm) - Pre-Die Cut
Maximum Print/Cut Height
12" (305mm)
Media Width:
4.72" (120mm) - Die-Cut
2.125" (54mm) to 5.25" (133mm) - Pre-Die Cut
Media Type:
Schreiner Color Laser Film (CLF)
Media Colors Available:
Black with white print
Media Sensing:
See-through and black mark sensors for pre-die cut labels, TOF sensing for digital die-cutting
Label Design Software:
BarTender Designer Software included; other versions available for more features and integrations
Operating System:
Windows 7 / 8 / 10 / 11
Data Interfaces:
USB 2.0, Ethernet 10/100
Electrical Rating:
12VDC, 5.0 Amps
Power Requirements:
100-240 VAC, 50/60 Hz
Agency Approvals:
UL, UL-C, CE, FCC Class A
Laser Safety Certifications:
CDRH and IEC 60825-1
UL Certification:
Class 1 Laser Product
Weight:
12.5 lbs. (5.7kg)
Dimensions:
13.6" W x 9.5" H x 17" D
(345mm W x 242mm H x 432mm D)