Shipping Policy
Updated: January 2023
Contiguous 48 States: Free FedEx Ground Shipping on orders over $100.00.

*

Alaska & Hawaii: Free FedEx 2-Day Shipping on orders over $250.00.

*

International: For more information about shipping,click here.

*

Free shipping applies to domestic end user orders only.
Primera Technology calculates shipping charges based on destination postal code, service level selected and the total dimensional weight* of the boxed order. Primera exclusively uses FedEx for shipping its online orders placed directly by customers. Service options and charges are displayed when the order is presented for confirmation and before being finalized. Shipping methods may not be changed on an order after it is submitted. Orders requested for collect shipping or 3rd party on a customers account must be called in, emailed, or faxed to Primeras sales department for processing.
Primera offers FREE ground FedEx shipping on any orders within the contiguous United States via FedEx on orders over $100.00 or for other promotional purposes. FREE 2-day FedEx shipping is also offered on any orders to Alaska or Hawaii that exceed $250.00. Freight charges and taxes do not count towards the $100.00 total. Free shipping does not apply to any order in its entirety that includes toner cartridges (SKUs 057401, 57402, 57403, and 57404). This offer applies to all orders received after November 9th, 2017. Orders for stocked items cannot be combined with custom labels to reach the minimum requirement. Free shipping does not apply to shipping methods other than FedEx Ground on Primeras account.
If you select a delivery service that is not available in your area, your shipment may be "downgraded" to the next closest available service. For example, FedEx does not deliver Priority Overnight shipments to some rural areas. If you select this service and live in a designated rural area, your purchase will be sent via the next closest delivery option. For further information about FedEx shipping policies, visitwww.fedex.com.
PLEASE NOTE: Saturday and Sunday delivery is not available onwww.primera.com. Orders shipped Next Day Priority or Standard on a Friday, will be delivered on Monday. Saturday delivery may only be requested by placing your order by phone, fax or e-mail. Most orders received before 2:00 PM Central Time (-5 GMT) will be processed and shipped the same day. However, this can not be guaranteed for all items we sell.
Orders received after 2:00 pm Central Standard/Daylight Time will be processed on the following business day. Orders for equipment and/or service parts may require an additional 1 – 2 business days for verification and processing. Freight charges displayed at the order review page are only valid for orders submitted throughwww.primera.com. Additional shipping and handling charges may apply for orders submitted through phone, mail, fax or e-mail. Primera does not assume responsibility for shipment delays due to inclement weather or for holiday schedule changes as determined by FedEx. Orders for equipment, service parts or shipping via FedEx Freight may require an additional 1-2 business days for verification and processing. Any requests for order changes, order cancellations or address changes/corrections must be communicated to Primera within 30 minutes of order submission. Changes/corrections must be approved and initiated by a Primera employee. Applicable fees may apply. Due to shipper restrictions, FedEx cannot deliver to P.O. Boxes, APOs, FPOs, or U.S. Territories.
When selecting the shipping method on orders, please refer to the FedEx map below to determine the number of business days it will take for Ground service. For example, Ground shipments from MN to IL generally take 2 business days and will be more cost-effective than selecting a 2-Day service. Please note, however, that Ground shipments are not guaranteed to be delivered in this amount of time as they are with the other options.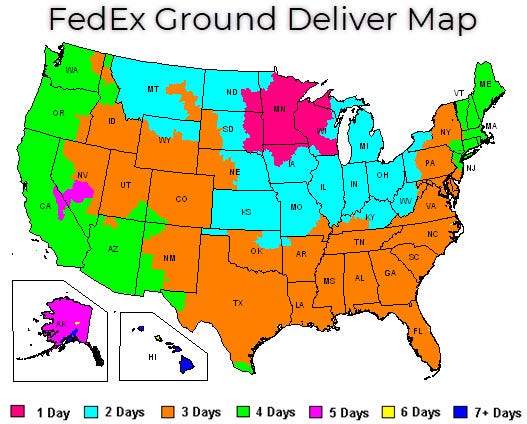 *As of 1/1/2017, this is calculated as LxWxH of box divided by 139 for domestic orders.
;
For shipping claims, please contactsales@primera.com.

Lost or Stolen Packages
You will receive a FedEx tracking number by email when your order ships. It is your responsibility to track your packages and to be on-site or make other secure arrangements to receive them when they are delivered. If your FedEx tracking number says that a package has been delivered, but you have not received your order, this is the procedure we follow:

First, we ask you to check with anyone else that receives mail or other deliveries at the ship-to address and that, if possible, you talk to your FedEx Driver to see where they delivered the package. This step alone often solves a missing package issue. We also ask that you check with your neighbors to see if they might have received it either by mistake or if they did you "a favor" by collecting it from your doorstep. If your package is still missing, please contact us atclaims@primera.com. It is imperative that you contact us within 48 hours of your package not being delivered on the date indicated as delivered by the tracking number. After that amount of time, FedEx may decline to investigate and your claim with them could be denied. Once you have notified us, we will open a lost package case with FedEx to confirm if the delivery scans GPS location matches the ship-to address you gave us on your order.

If the GPS delivery scan matches your address, it is your responsibility for the lost or stolen package. The delivery GPS location scan provides proof that it was delivered to the correct ship-to address. We do not replace orders if the GPS delivery scan matches the shipping address. In this case, you should file a police report for the stolen packages. You may then want to file a claim with your homeowners or business insurance provider. Some credit card companies also provide insurance when their card was used to purchase the lost or stolen goods. If the GPS delivery scan shows that the FedEx did not deliver your package to the shipping address you provided, we will reship your parcel as soon as possible, but with a signature required. We will then file a missing package claim with FedEx on behalf of Primera.
A Note About Freight Forwarders
If you (or a freight forwarder you so designate) have a US address and purchase goods fromwww.primera.com, ship them to a US location and then subsequently export the products, you or the designated freight forwarder are considered the exporter of record, not Primera. You are then held solely responsible for compliance with all export and import regulations, including all US export regulations and the import regulations of the destination country. You are expressly prohibited from listing Primeras name on any export documentation (e.g., export declarations, invoices, packing lists, air waybills, etc.). It is your responsibility to ensure that you use the freight forwarders most up-to-date US address and that you comply with all applicable US laws.

If you (or a freight forwarder you so designate) do not have a US residence, purchase products fromwww.primera.comand ship to a US location, you or the designated freight forwarder maynotsubsequently export the products without prior written authorization from Primera.