Available 7AM – 10 PM M-F CDT (-5 GMT) and Saturday 11AM – 8PM CDT (-5 GMT)
Worldwide 30-Day, 100% satisfaction guarantee.
AP550 Flat-Surface Label Applicator
• Up to 500 labels per hour
• Applies labels to flat or tapered surfaces
• LED display with counter
• Quick setup, easy operation
• 100-240 VAC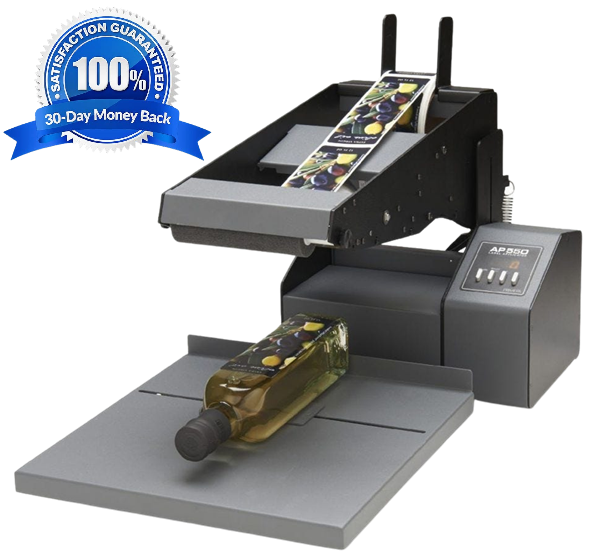 AP550 Label Applicator for Flat Surfaces
Need a better way to apply your labels. Primera's AP550 Label Applicator applies labels fast and accurately to flat surfaces, including flat bottles, lids, boxes and more.
AP500 Label Applicator
AP550 is a semi-automatic labeling solution for flat containers including rectangular or tapered bottles, boxes, packages, bags, pouches, lids, tins, and much more.
Applicator Cost: $2,395.00 USD

Volume: Up to 500 labels per hour
Container Type: Flat or tapered surfaces
Apply labels quickly and accurately to all types of flat containers with
Primera's AP550 Label Applicator
AP550 is a semi-automatic label applicator that makes it fast and easy to precisely apply product and identification labels onto a wide range of flat surfaces such as rectangular or tapered bottles, boxes, packages, bags, pouches, lids, tins, and much more. Labels are applied straight without wrinkles or folds in exactly the location desired. This gives finished products a highly professional look and significantly increases the number of containers that can be labeled per hour versus manually applying labels.
Operation is simple: place the container in the mechanism and pull the arm to the container and the label is automatically applied. Variable spacing, memory for up to nine jobs, and a counter with built-in LED display are all included. No air-pressure supply is required which can be a significant advantage over other label applicators that require expensive, noisy and maintenance-prone air compressors.
IMPORTANT NOTE: Before ordering, we strongly suggest that you contact Primera, or your local reseller, to confirm that your labels and containers are suitable for use with AP-Series applicators. We are happy to perform testing for you before purchase. Our goal is to make your shopping experience with us a positive one.
Apply Labels Fast and Accurately
With an AP550 Flat-Surface Label Applicator, you'll be able to apply labels at speeds of up to 500 per hour. Labels are perfectly applied without wrinkles, giving your finished products a highly professional appearance.
AP550 is the perfect accessory for labels produced by Primera's popular color label printer. Together, they provide a complete print-and-apply solution that's ideal for a wide range of small to medium-sized businesses. Roll printed labels by other methods such as flexographic, offset, and thermal transfer can also be applied with the applicator. For round containers such as bottles, cans and jars, Primera also offers its top-selling AP360 and AP362 Label Applicators.
Features:
Easy to use
Full range of motion
Left or right justification of labels is not necessary; the operator can adjust to the most convenient position
High-precision, reliable micro-switch activatione
Nothing to clean or get dirty; works with virtually any label, including clear labels
LED display with built-in up/down counter for labels dispensed and applied
Universal Power Supply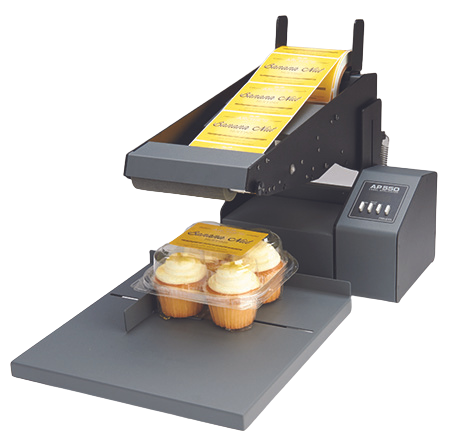 Compare Applicators
| | AP360 | AP362 | AP550 |
| --- | --- | --- | --- |
| | | | |
| Labels Applied: | 1 at a time | 2 at a time (front and back) | 1 at a time |
| Types of Containers: | Cylindrical | Cylindrical | Flat or Tapered |
| Labels/Hour (up to): | 1200 | 1200 | 500 |
| Maximum Container Width: | 9.4" (239mm) | 9.4" (239mm) | 12"+ (305mm+) |
| Maximum Container Diameter/Height: | 6.7" diameter (170mm) | 6.7" diameter (170mm) | 8" high (203mm) |
| Maximum Label Width: | 8.375" (213mm) | 8.375" (213mm) | 4.125" (105mm) |
AP550 Flat-surface Label Applicator Reviews
"I chose this label applicator over others due to the flexibility it offers. Not only does it apply labels quickly to bottles, but also label pouches, shipping mailers, and small boxes. It can also apply round labels perfectly centered on the top of a round lid. The first labeler I received did have a firmware issue, but it was quickly replaced at no charge. Great customer support!"

by Rick Reese
---
"This machine worked very wellf or us. We tried a more "high tech" machine, but it didn't have the accuracy we needed (1 - 2 mm of precision).
I made a brace to hold our container still out of angle brackets and a piece of cardboard. Taped the brace to the bed of the applicator to hold containers in place. Took a while to get it positioned correctly, but that was expected.
We labeled approx 8,000 successfully with the AP550 with no problems.
My only complaint was the speed. It works exactly as advertised (approx 500 per hour) but I wish it was faster."

by Marya Gomez
---

What's In The Box
AP550 applies labels to one side of flat- or contoured surfaced containers and includes an LED counter and memory for up to nine jobs.
Label Applicators
Manuals
AP360/362 Manual

- Updated 05-19-14

- 1.71 MB

AP360/362 Loading Diagram

- Updated 05-24-13 -

37 KB

AP550 Quickstart

- Updated 10-17-13 - 2.45 MB
AP550 Manual - Updated 5-26-15 -

2.2 MB

Download

AP550 Container Holder Kit Manual

- Updated 5-26-15 - 2.2 MB
Download
What are the prices of the applicators?

AP360: $1395
AP362: $1595
AP550: $2395

What are the main differences between the three applicators?

Types of Containers:

AP360 and AP362: Cylindrical (able to roll in a straight line – bottles, jars, etc.) Let us test your container if it is not completely round, or if it is tapered.
AP550:


1. Flat Surfaces (boxes, filled pouches, flat faced containers/bottles, etc.)
2. If container does not sit firmly on the platform (odd/round back, small container) refer to the container holding kit. This kit is great for odd-shaped, small containers. Let us test to see if it works better with, or without the kit.
3. Empty pouches or slim containers need to be placed on some type of additional platform to raise the container, as the applicator's neck will hit the edge of the platform if the container is too thin. Books, wood, foam, etc. are great additions to raise the container.

Number of labels applied:

AP360 and AP550: 1 label at a time
AP362: 2 - Front and back label (labels need to alternate front and back on roll)

Speed:

AP360 and AP362: 1200 containers/hour (semi-automatic – operator has to load container, so this really depends on the operator of the machine as well)
AP550: 500/hour (semi-automatic – operator has to load container, so this really depends on the operator of the machine as well)

What types of materials can be used?

Any of the materials we stock can be used on the applicators. If you have another material that we do not carry, we suggest testing the material on the machine to make sure it works.

What is the minimum/maximum width labels (including liner) can be?

AP360 and AP362: 1" (25mm) to 9.4" (239mm)
AP550: .875" (22mm) to 4.125" (105mm)

How does the applicator know when to apply my label?

AP360 and AP362: Uses a physical sensor that moves based on the thickness of the material to sense the label and gap.
AP550: Uses an optical sensor. This is important when using a clear material as it would require the black registration mark on the back of the material vs. the AP360/362 which does not require this.

Do you offer any financing?

Yes! We have relationships with both PayPal and Credit Key. Ask your sales representative for more details on these programs.

How large can the outer diameter of the label roll be?

Up to 8" (203mm) - all applicators

What is the minimum/maximum size of the containers I can label?

AP360 and AP362: 1" (25mm) to 9.4" (239mm) wide - .6" (15mm) to 6.7" (170mm) diameter
AP550: .002" (0.05mm) to 8" (203mm) high – Platform size: max 12" (305mm) wide x 12.2" (310mm) long (So container could be longer or wider, but label may not be placed where they want it to if it's too long or wide)

How do I make sure my label is placed exactly where I want it?

AP360: There are guides that move back and forth to ensure your container does not move when applying the label. This also ensures the label is applied without wrinkles.
AP362: Make sure your front and back labels are alternating on the roll. Measure the spacing you would like between the front and back label on the container. You can set this measurement on the machine and save it in the "mode" settings, so you only have to set the measurement one time, for each container. Place your container in the base and press the foot switch. The front and back labels will be applied by hitting the foot switch only one time.
AP550: The platform underneath the application mechanism can be moved forward and back with the + and – buttons. You can save the setting of the platform for the particular container in the "mode" settings, so you only need to set the placement for the container one time.

How many settings can I save? (AP360 does not have this feature, as it's not needed to apply one label)?

AP362: Up to 9 settings (spacing between front and back label)
AP550: Up to 9 settings (platform location)

On AP550, what is the "Container Holder Kit" used for?

If your container to be labeled is an odd shape or would move around on the metal platform, we suggest you buy this kit. With it, you can quickly and easily mold a fixture to hold the container perfectly in place, helping to ensure that every label will be perfectly applied.
Container Platform
12" W x 12.2" D [305 x 310 mm] *
Container Height
.002" to 8" [.05 mm to 203 mm] **
Container Shape
Flat, tapered
Label Width
.75" to 4" [19 mm to 101.6 mm]
Label Height
.75" to 6" [19 mm to 152.4 mm]
Label Liner Width
.875" to 4.125" [22.2 mm to 104.8 mm]
Label Placement
Leading edge up to 8" [203 mm] from trailing container edge
Label Roll Diameter
8" [203 mm] (maximum)
Label Roll Core
2" to 3" ID [50.8 mm to 76.2 mm]
Sensor Type
Optical Sensor
Electrical Rating
12 VDC, 5.0 A
Power Requirements
100-240 VAC, 50/60 Hz, 60 watts
Agency Certifications
UL, UL-C, CE, FCC Class A
California Prop 65:
WARNING: Cancer and Reproductive Toxin - www.p65warnings.ca.gov
Weight
24 lbs [10.9 kg]
Dimensions
12" W x 21.3" D x 10.1"–15.4" H
[305 x 541 x 256–391 mm]
Gap between Labels:
Recommended: 1/8" - 1/4" ( 3.175 mm - 6.3500 mm )
Label Type:
Die cut with waste removed. Black mark or gap for label sensor. Clear labels must have black mark on liner. (Labels digitally die-cut on the LX610 are not compatible because the waste is not removed. Learn More.)
Liner Thickness:
2 mil - 10mil (smoothness will affect feeding - a liner that is too slippery or too thin will slip through the drive rollers)
Label + Adhesive Thickness:
5 mil - 15 mil***
Wind Direction
Wound out - See Copy-Position Chart (Position 3 or 4 for most containers)
Assembled
USA
* Container may overhang platform to the front and/or either side.
** Containers shorter than .8" (20.3 mm) may require adaptive spacers.
***Pliability/Flexibility/Rigidity of the label is also a factor. If the label is too flexible, no matter the thickness, it can cause wrinkling or it may not pop off the liner when going around the peel edge. Polypropylene, Polyester and Vinyl labels tend to be more flexible that paper labels. If you suspect the label stock is too flexible, it is recommended that the stock and container be tested on the Applicator before making any purchase decisions of label stock or the applicator.